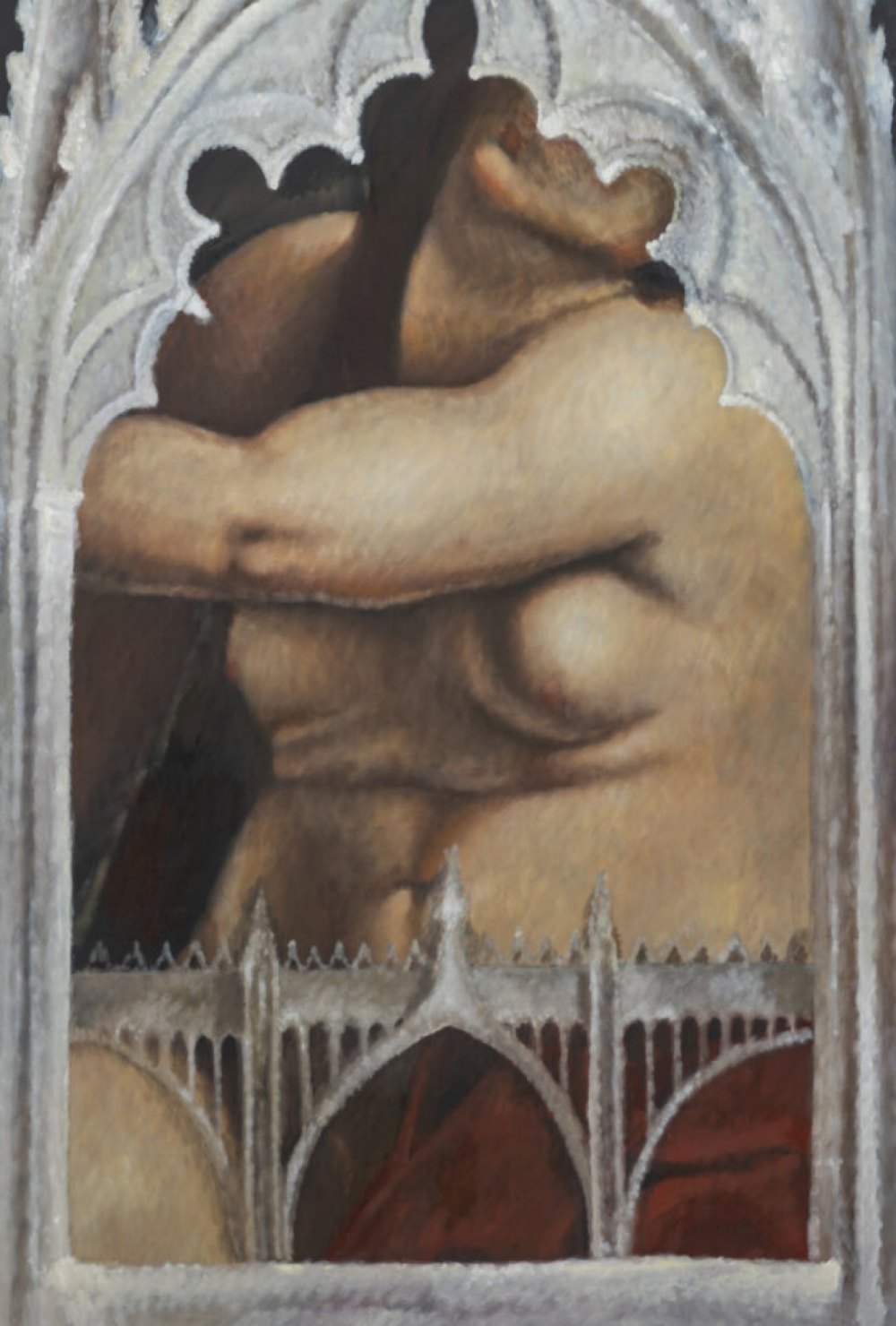 DOCENT PICKS
Navigating Paris Fairs Week: Our Selection of Exhibitions
16/10/2023
We are excited to welcome Paris Fairs week, including Paris+ par Art Basel's second edition at the Grand Palais Éphémère and its extension on the Champ de Mars, and Paris Internationale 9th Edition, will be taking over the Central téléphonique Le Coeur on rue Bergère, a stone's throw from the Grands Boulevards.

If you find yourself in Paris this week, don't miss the opportunity to visit our pick exhibitions showcasing works of Docent artists.

Issy Wood, "Study For No" at Lafayette Anticipations
Lafayette Anticipations will present "Study For No", the first solo exhibition of Issy Wood in France. The exhibition features over 60 paintings by the British artist, most of which will be exhibited for the first time, and opens on October 18, 2023.

Pol Taburet, Anne Bourse, "Do You Believe in Ghosts?" at Fondation Pernod Ricard
Under the title "Do You Believe in Ghosts?", the 24th Fondation Pernod Ricard Prize brings together 6 artists, including Pol Taburet and Anne Bourse, invited by the curator Fernanda Brenner.

Ser Serpas, "I fear (J'ai peur)" at Bourse de Commerce - Pinault Collection
For the Bourse de Commerce, Ser Serpas has created a series of paintings and sculptures (covered in fabric) that are profoundly inspired by Alejandro Amenábar's fantasy film The Others, especially when the voices of ghosts echo throughout the house, as if they were coming to inhabit its abandoned furniture and objects.

Ludovic Nkoth, "What If?" at Maison La Roche
The exhibition is the culmination of a year-long residency with the Academie des Beaux-Arts and Cité Internationale. The house was built around 1925 and was inhabited by a Swiss banker who lived with his art collection and was famously designed by the architect Le Corbusier and his cousin, Pierre Jeanneret.

Gaëlle Choisne (Lorna Simpson mentoring) at Acacias Art Center
In her installations, created at the crossroads of sculpture and photography, Gaëlle Choisne evokes displacement, architecture, the organic, matter and waste. Designated by Lorna Simpson to form the Reiffers Art Initiatives "Mentor and Young Talent" 2023 duo, Gaëlle Choisne will exhibit her work in an exhibition at the Acacias Art Center during Paris + by Art Basel.

Lily Reynaud-Dewar, "Hello, My Name is Lily and We Are Many" at Palais de Tokyo
Lili Reynaud-Dewar is a multidisciplinary artist who works in various fields such as filming, writing, speaking, dancing, teaching, and investigating. At the Palais de Tokyo, she raises questions about the role and function of artists. This profession is hard to define with blurred boundaries and is both privileged and precarious. Artists operate in a space between the exposure of their private life and the subjectification of public life.

Dalila Dalléas Bouzar, "Vaisseau infini (Infinite Vessel)" at Palais de Tokyo
Dalila Dalléas Bouzar, the winner of the SAM 2021 prize, collaborated with Algerian craftspeople - both amateur and professional - to create Vaisseau infini [Infinite Vessel], a monumental work of embroidery in Tlemcen.

Bouchra Khalili, Marcel Duchamp 2023 Prize Exhibition at Centre Pompidou
Bouchra Khalili is among the four finalists for this year's Prix Marcel Duchamp. Featuring Bouchra Khalili's project which examines the immigrant experience of being separated from one's home country to oral storytelling as a tool of resistance, the exhibition continues until January 8, 2024.

Vojtěch Kovařík, "The fifth season" at Jardin des Tuileries
The Musée du Louvre and Paris+ par Art Basel renew their collaboration in the Jardin des Tuileries with the exhibition "The Fifth Season" curated by Annabelle Ténèze, featuring over twenty contemporary artists. Galerie Derouillon will present a monumental sculpture, specially designed for the Jardin des Tuileries, by Czech artist Vojtěch Kovařík. This imposing work of art will echo the artist's solo show at Galerie Derouillon, taking place simultaneously at 13 rue de Turbigo.