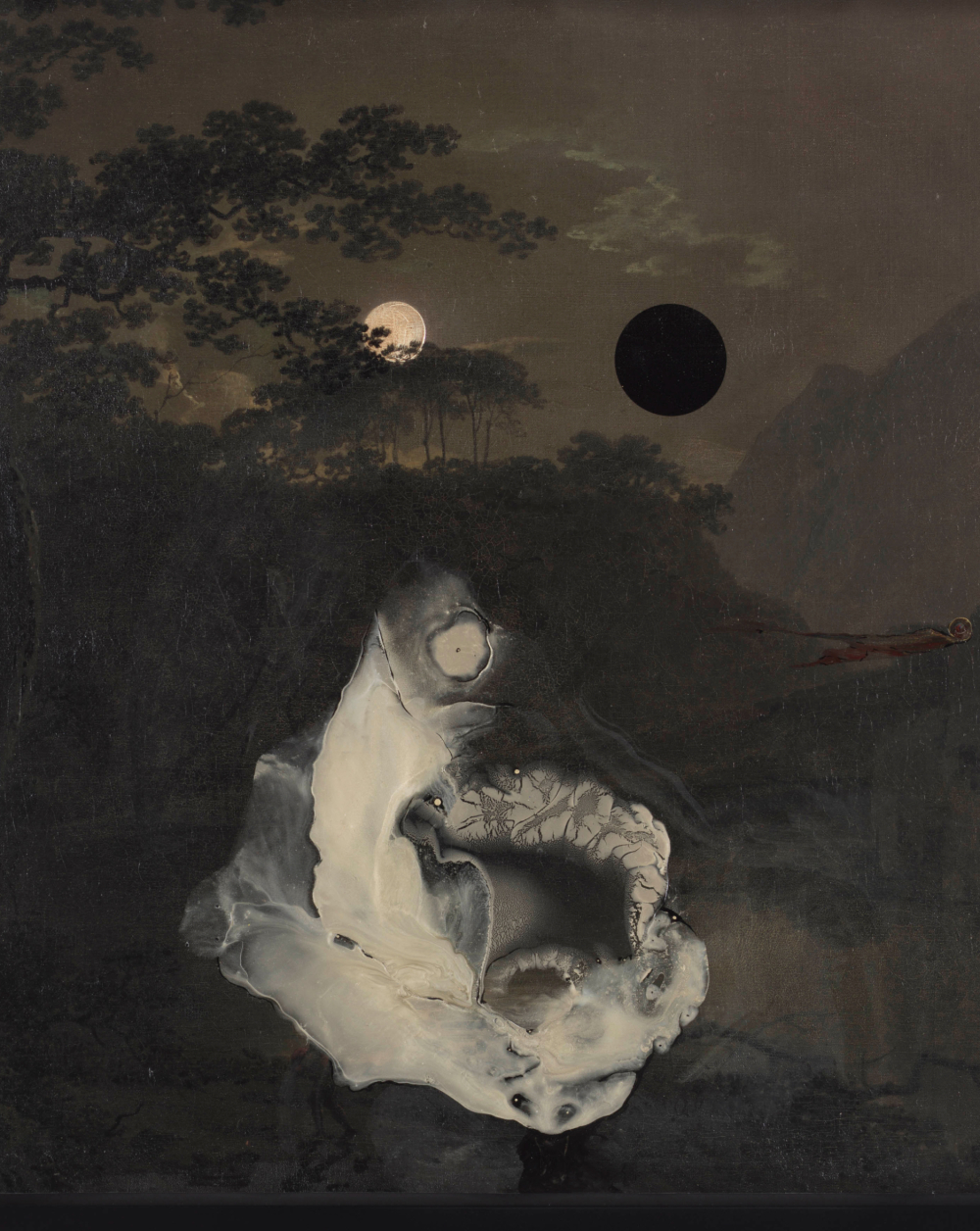 DOCENT RECOMMENDS
Halloween Universe
31/10/2023
As we celebrate Halloween, we have assembled a collection of Docent artists, each exploring the many aspects of the festival. With its roots in the Celtic celebration of Samhain, Halloween has evolved over time and across continents, blending together various cultural traditions.

The collection features artworks by Dalila Dalléas Bouzar, Anthea Hamilton, Rachel Rose and Cindy Ji Hye Kim to evoke the mysterious spirit and rituals of Halloween. Their techniques and perspective transport the viewers to a world beyond our understanding, where the corporeal and the spectral engage in an enchanting interplay of form and shadow. Their unique visions breathe new life into the legacy of Halloween, inspiring us to look beyond the known and explore the mysteries that lie within.

Dalila Dalléas Bouzar is an artist who engages in performance, painting, and textile art. Through these different mediums, she explores the connection between the body and collective creation and the old spooky ritual. Bouzar seeks to give a luminous presence to wounded identities and honor their power by bridging the forces of the cosmos and sublime with the powers of the spirit. Her work brings visibility to these identities, celebrating their strength and resilience.

Greece-born, Brazil-based Gretta Sarfaty is a multimedia artist working mainly with performance and photography. Since the 70's, Gretta has consolidated her work researching the disfiguration of the female body image through the Body-Art, being recognized as a national and international pioneer in this and other artistic movements.

A sense of deep unease pervades Cindy Ji Hye Kim's psychologically charged works. The Korean-born, New York-based artist utilizes a variety of materials, including charcoal, oil pastels, graphite, and ink, to produce monochromatic paintings that take on a sculptural quality. Kim's paintings typically utilize a black-and-white palette that references the painting technique of grisaille, which involves using a neutral base coat to support layers of color. By incorporating shadowy underpinnings beneath the visible surfaces of her paintings, Kim's visual language, the shadowy underpinnings of paintings alludes to other dark elements that lie beneath visible surfaces.

Rachel Rose is a multidisciplinary artist based in New York, known for her captivating video installations, sculpture, and painting. Her approach is constantly evolving, as she explores the expressive power of digital video and painting by seamlessly combining visuals, audio, and text. Rose's practice reflects contemporary anxieties, our relationship with nature, the embrace of technology, the inevitability of mortality, and the imprints of history. She skilfully highlights specific textures, for example, a timeworn canvas or the delicate sweep of a mascara-clad eyelash, accompanied by eerie sounds and enigmatic dialogue. Drawing inspiration from a rich cinematic heritage, Rose's creations delve into cryogenics, the American Revolutionary War, modernist architecture, and even the sensory journey through outer space. Through these explorations, she prompts us to question our humanity, our desire for transformation, and our pursuit to go beyond our essence.